How often do you buy new clothes? How many T-shirts and jeans do you have in your wardrobe? And how many of them you've only wore for once or twice?
Fast fashion has shifted our purchasing behaviour by offering new styles and collections every month, sometimes every week, encouraging people to keep buying and buying.
Up to 60% of the clothes in our wardrobe are made of synthetic fibres: acrylic, nylon polyesters, you name it. Those quick-drying polyester T-shirts are cheap and easy to wear. But the problem is when you toss them away, it can take up to 200 years for that garment to decompose in the landfill.
In fact the fashion industry is responsible for 10% of annual global carbon emissions. At this pace the fashion industry's greenhouse gas emissions will surge more than 50% by 2030.[1]Fast fashion is certainly not sustainable neither environment wise nor social wise.
In recent years sustainability has become a buzzword. The concept of sustainable fashion and ethical clothing has become the latest fashion trend. Let's take a close look at some of the brilliant sustainable fashion initiatives in material innovations.
From Plastic to Fabric
Polyester now accounts for 51% of all fibre production, twice that of cotton (synthetic fibre production overtook cotton in the mid-1990s). Yet we throw away an estimated 48 million tonnes of clothing of all types each year, 75% of which ends up in landfills or is incinerated.[2]
What if we recycle those polyester and reuse them in new garment? In fact that's what Patagonia has been doing since 1993. Patagonia owns an outdoor-clothing brand. As a certified B Corp, Patagonia has always been the industry role model for sustainable fashion.
Old plastics are sorted and processed into shreds, and then turned into chips. Recycled fibre producers then spin the chips back into yarn. Unifi, one of Patagonia's recycled fibre producers, alone has processed more than 16 billion bottles since 2008, and aims to hit 30 billion bottles by 2022.
For the Spring 2021 season, 84% of Patagonia's polyester fabrics are made with recycled polyester. As a result, the company reduced CO2 emission by 14% compared to virgin polyester fabrics, which equals to more than 1,400 tonnes of CO2.
Patagonia is not fighting alone in this field. Stella McCartney wants to phase out virgin nylon by 2020 and polyester by 2025. In the mass market, Adidas has committed to using recycled polyester in all viable applications by 2024.
Apart from recycled polyesters, PET bottle and Polythene (plastic bags) also have their chance to be used in sportswear, or even high-end fashion, according to US researchers.
Dr Svetlana Boriskina, from the department of engineering at the Massachusetts Institute of Technology (MIT) said discarded plastic bags can be turned into high-performance fabrics with a low environmental footprint.
The fabric made from fibres of polytheneis designed for comfort, water permeability and dyeability.
Researchers also claim that the fabric is less damaging to the environment than the likes of wool, cotton, linen, silk, nylon and polyester Fabric is washable in cold water which saves energy, and is repeat recyclable since it is not a mixed fibre and made of polythene only..[3]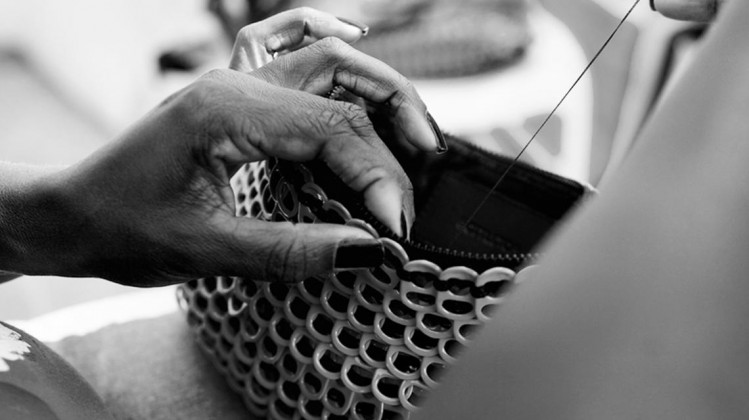 Source: bafta.org
Upcycled Materials x Artisan Design
Apart from PET bottle and plastic bags, can you imagine a handbag made of Pepsi ring pulls that shines on the fashion week runway?
It's BOTTLETOP, a British luxury sustainable fashion brand which was launched in 2002 through a design collaboration with Mulberry. The heart of the campaign was the first luxury bag design made entirely from up-cycled materials launched globally; a bestselling handbag made from bottle tops in Kenya, lined with Mulberry leather off-cuts in the UK.
Ever since 2012, BOTTLETOP has made their name with their signature Tranca Mistura braiding technique that blends the upcycled ring pulls with leather offcuts.
If you don't know the story behind, you will still find BOTTLETOP handbag appealing for its unique design and its signature chain mail fabric. But you'll probably like it even more when you learn that those are literally used metal ring pulls that they source and clean in Brazil.
Moreover, they work with the National Wildlife Federation to source zero deforestation leather from sustainable farms. They also use recycled cardboard packaging to eliminate plastics in the supply chain. In 2017, they even opened the world's first ever 3D printed store in London. The whole shop was made from up cycled ocean plastic.
Apart from environmental sustainability, social sustainability also falls under BOTTLETOP's radar. Each BOTTLETOP item is a unique, complex weave created by hand. The company now employs 20 mostly female artisans in their atelier outside Salvador, Brazil. The atelier was opened in 2012, that's where the company provided training in the skills required for the signature weaving techniques, enabling the workers to earn 45% more than the Brazilian industry average.
———
The fashion industry is key for economic development. It is the world's third-largest manufacturing sector after the automobile and technology industries. As we've discussed earlier, it's also one of the major contributors of plastic microfibres entering our oceans.
To solve the problem, we must reinvent fashion itself from the raw material. If we can fashion circular, we may be able to help to fight for the cause of global challenges such as climate change, biodiversity loss, and pollution.
Reference List
https://www.worldbank.org/en/news/feature/2019/09/23/costo-moda-medio-ambiente
https://www.theguardian.com/fashion/2019/jul/16/the-big-fashion-fight-can-we-remove-all-the-toxic-invisible-plastic-from-our-clothes
https://www.patagonia.com/our-footprint/recycled-polyester.html
https://www.bbc.com/news/science-environment-56404803
https://BOTTLETOP.org/pages/atelier
---
[1] https://www.worldbank.org/en/news/feature/2019/09/23/costo-moda-medio-ambiente
[2] https://www.theguardian.com/fashion/2019/jul/16/the-big-fashion-fight-can-we-remove-all-the-toxic-invisible-plastic-from-our-clothes
[3] https://www.bbc.com/news/science-environment-56404803
.
.