(photo credit : Valentin Farkasch @norobotyet unsplash.com)
When we talk about climate change, we naturally think of carbon emission, global warming, melting ice sheets, etc. It seems that it's a very macro problem to the whole planet. But what if I say climate change may harm your mental health? Would you feel surprised?
Let's put it this way. If you wake up to a smoggy day due to heavy pollution, would you feel miserable under the ultimate grey sky? And what if this continues for days and weeks, or even for the whole winter time?
I guess you get the point by now. Everyone is inter-related with Planet Earth. Thus, it's no surprise that our mental health would be affected by the climate change.
However, psychological impacts are often ignored by society among various environmental and social impacts caused by climate change. And WiFA (Women in Finance Asia) decided to take some action.
Last week, WiFA's Education Committee hosted a virtual session to discuss Climate Change and Mental Health. WiFA invited experts from different backgrounds to share their perspectives on mental health issues that are related to climate crisis.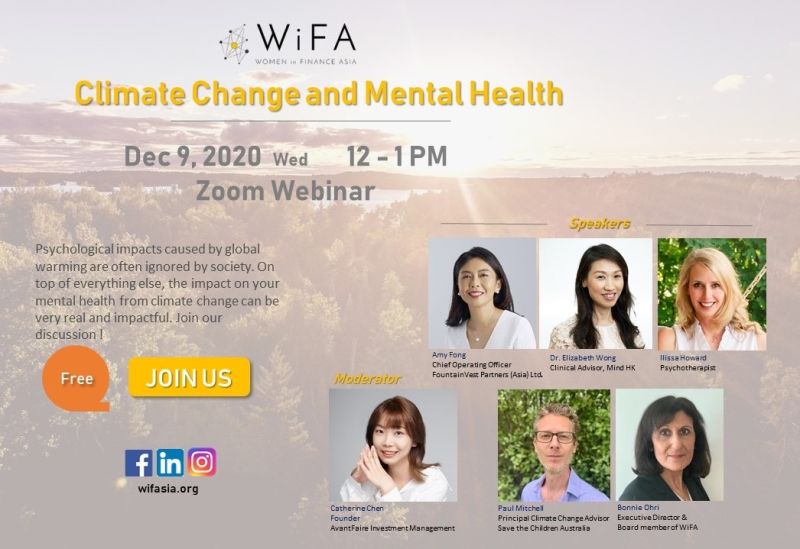 Catherine Chen was the moderator of this panel discussion, and here's some insights she brought back from the virtual event.
It affects everyone, directly and indirectly.
Climate change is as true as gravity. You may not see it (or refuse to see it), but it works on you every day. It's only a matter of degree and how directly we're affected.
The impact might be more tangible when we suffer from nature catastrophes as a result of climate change. But it could also have indirect impact on people's mental health. Perceived threat may bring uncertainty, anxiety, hopelessness, and helplessness.
A recent survey conducted by APA (American Psychology Association) this year shows that two-third of the respondence felt at least a little eco-anxiety; one-fourth of them suffered a lot from eco-anxiety.
Eco-anxiety is anxiety and worry directly related to climate change and its impacts. APA described eco-anxiety as "a chronic fear of environmental doom."
Apart from eco-anxiety, you might not have imagined that hot weather can also affect mental health.The 10 hottest years ever recorded, since we ever started recording all these information, all occurred after 2005. And the last 5 years are the hottest 5. 2020 is on tract to be the hottest year ever recorded.
Scientists believe that there is correlation between hotter weather and aggressive behaviour. As our planet continues to grow warm, the temperature continues to increase, we may see a long term continued increase in aggressive behaviour globally, which is obviously a concern. Suicide rate also increase with hotter weather. Some psychoactive medications can interfere with body's ability to regulate temperature, which means people with mental disorders suffer more in the heat.
Children suffer the most, especially those who live in poverty.
There is scientific consensus that climate change will increase the frequency of drought, floods, and sever weather events. These threats will pose great risk for children over the coming decades.
Severe weather events can destroy or disrupt infrastructures critical to children's well being and their early development. Such infrastructures may include schools, hospitals, and transportation services.
Droughts and floods can also destroy crops, water systems, etc. All of these issues lead to severe mental health impact, causing elevated level of anxiety, depression, and post-traumatic stress disorder (PTSD).
Children, especially those live in poverty, has least power to fight for resources after nature catastrophes. Severe climate events often lead to forced migration, which can also affect children's well being if they don't have adequate resources to help them adapt to the local environment and community.
Apart from physical and mental impacts, exclusion impact is another often neglected impact that children suffer from climate change. It's no surprise that children have never been treated as equal decision makers. But climate change is directly related to children's future, yet they're excluded from the decision making process. Their voices are barely heard, cause no one cares to ask children what they want for the future, what they want the futures to be.
Based on all the above, we can see that climate change has destabilising effect on people's life, especially for the vulnerable populations. Therefore, all of these should be considered when one is looking at a child survival policy or program development for areas that are impacted by severe climate change events.
We've done far from enough.
The 2020 Report from Lancet clearly reveals that "No country – whether rich or poor – is immune from the health impact of climate change. Unless urgent action is taken, the health impacts of climate change will bring further disruption, threaten lives and livelihoods and compromise the hospitals and clinics we depend on."
We're inter-related, and Covid-19 has high-lighted that for us as clear as possible. Therefore, if we want to tackle the climate change and mental health issues, every one of us counts. We believe that cross-sector approach would bring the right people positive impact and the right profit and gains for the stakeholders.
Cross sector efforts start from each individual, start from ourselves. It's encouraging to see lots of the pension funds are increasingly demanding higher and higher ESG standards. At the same time we're seeing changes in the commercial side and from business operation level to address the challenge posed from climate crisis.
In that sense, we can say that eco-anxiety is not 100% bad thing. At least it can motivate changes in actions and changes in policies makings. Because in this battle with climate change and the mental health issues brought by climate crisis, it really takes expertise and specialist across different industries and sectors to stay keen and motivated to do as much as they can to drive changes.
But we're not saying it's good to stay doom and gloom. On the contrary, we encourage people to embrace compassion, because without compassion we can't see the entirety of things.
And that's why we ended the webinar with a short calming and reflective meditation session. Meditation practice help us be aware of our own feelings, accept the feelings, with the best intention to bring kindness and compassion to ourselves as well as to people around us. The more connected we are to our experiences, the more we can open to our connections to our environment as well.
So now, take a deep breath and let's fight it together.
---
Follow us on LikedIn to share your thoughts with us.