Happy New Year of Ox! It is the time to reunion with families and to greet friends. It is also the good time to let me, Catherine Chen, introduce myself and what impact investing is about in the relaxing holiday season.
A New Star In My Alma Maters
I graduated from University College London (UCL) in the U.K. which is a unique and low-key tertiary institution. UCL has recently been rated as the highest ranked university in the U.K. by ESG (Environmental, Social, and Corporate Governance). The altruistic and social caring culture in UCL had built my dogged determination in impact investing. After graduating with a master's degree, I worked in Shanghai for a period of time during which I witnessed the booming development of the asset management industry in China. What imprinted me the most was that many investors had never linked investment capital and profitability with social benefit. The bloody and cruelty of the capital market seemed to lead practitioners to focus on grabbing fees from investors and letting their money to ride on luck. "The Wolf of Wall Street" is a vivid market operation not only in the movie but also in the real world. Despite of such brutal reality, I was not going with that flow and did not want to be assimilated by such cruel and materialistic practices. I thought about the reasons of these monstrous behaviors and why the finance elites couldn't concurrently do good deeds and make good money.
It was the time after I learned six languages ​​and spent five years studying economics and statistics. I believed my skills and abilities could be of properly use to empower the society. I deliberately searched for institutions specializing in business design and research which landed me at the Rodman School of Business in the University of Toronto (Rotman). The goal of my study was to find feasible solutions for doing good deeds and making good money. I studied and focused on business models and financial techniques. After graduating from the MBA program, my learning and life had become more purposeful. I realized the preciousness of time and not to let it wasted. I aimed to achieve my goals more efficiently. That's also the reason for me to do an internship in the Royal Bank of Canada which exposed me to "Green Funds" being a new theme in Canada. I got a lot of advanced learning in green finance and also accumulated practical experience from execution of projects. I realized I was in the right path to discover the secret of doing good deeds and making good money. It is impact investment.
.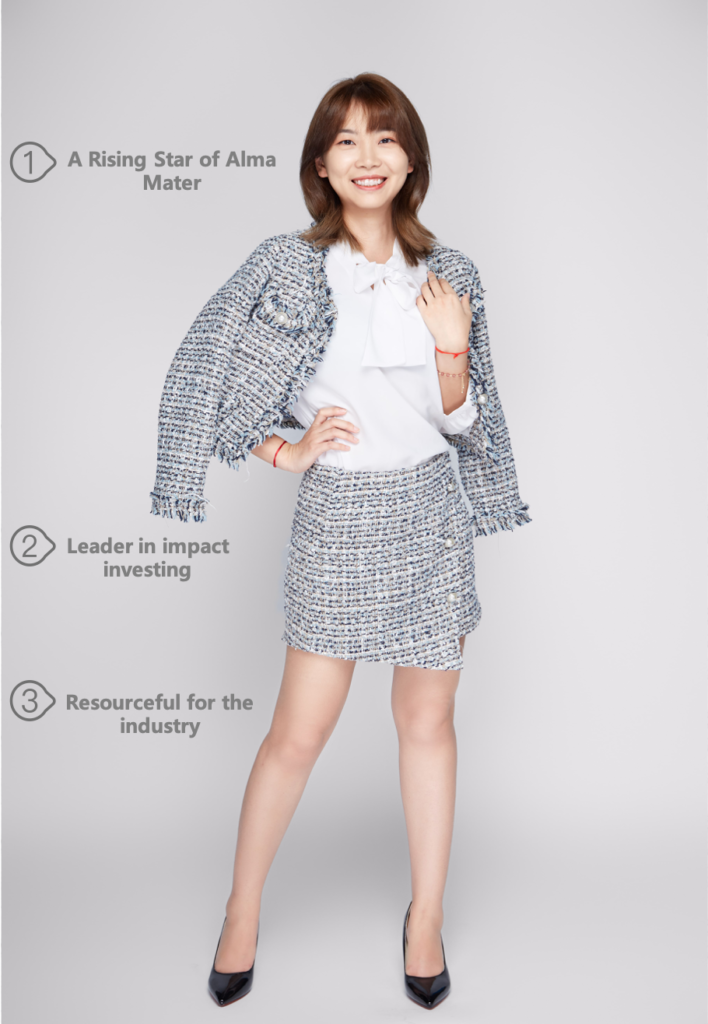 Part 1: A Rising Star of Alma Mater
.
In my subsequent entrepreneurship and work, I reckon the most important thing is not to forget my original intention, which is simply the purpose of doing good deeds. To evangelize green funds, sustainable projects and impact investments, I take office in committees in an armful of professional associations and actively speak and express my views in various summits, media and policy-making committees. With the gradual rise of impact investment in Hong Kong and the Asia-Pacific region, I am viewed as a thought leader in green finance by the industry. Following my original intention is essential as it influences my daily decision-making, attitude towards the market, and even responses to questions. I can see some green players either betray their original intention or simply do not have one to start with. If green industry practitioners only enjoy the financial benefits of the market, their deeds are likely to be "green washed" and become a disguise with no true purpose. Returning to my alma maters for guest speaking and forging various cooperation and interactions are also part of my original intention and purpose. Amidst work, epidemic and other things, I can meet with many young and promising alumni, share my experience and encouragement with them in a virtuous circle. It is not much to be particular about for being a new star of UCL and Rotman while my senior alumni and professors are recognized with true honors like the Nobel Prizes, but it is an enjoyable experience to interact with many old and new friends through such engagement.
.