Introduction
AvantFaire Investment Management (AFIM) is delighted to be a platinum sponsor for Hong Kong Exchanges and Clearing Market (HKEX) inaugural Green Asia Summit on 9 December 2021 to examine Asia's net zero journey. This event is supported by the Hong Kong Monetary Authority and the Securities and Futures Commission. Carrie Lam, Chief Executive of HKSAR, gave a keynote address at the start of the event. She talked about the role and potential for Hong Kong to act as a super connector in green and sustainable finance, and highlighted the progress that has been achieved to date. Dr. Ma Jun, Chairman and President of Hong Kong Green Finance Association (HKGFA), addressed how Hong Kong can accelerate its role as a super-connector and gateway for Mainland China's green assets by adopting the Common Ground Taxonomy, participating in a unified Greater Bay Area (GBA) Mandatory Carbon Market, while developing a Voluntary Carbon Market. In this regard, the government can also act as a convener to bring together regulators, public and private sectors in order to achieve a convergence of international standards and disclosures locally to position Hong Kong as a leading green and sustainable financial centre.
The business case for sustainability is becoming stronger every day, yet the path ahead is not clear. In Hong Kong, both the public and private sectors have a part to play in financing the transition to a low-carbon and sustainable economy, and to support net zero carbon emissions in Hong Kong, China, and Asia. There is a need to collaborate and work with various stakeholders to expand the overall sustainable finance ecosystem, and AFIM has a crucial role to play in this step-by-step regional transformation as well.
Ashley Alder, CEO of the Securities and Futures Commission, commented on the feasibility of a carbon trading exchange in Hong Kong. He shared that the city will need to set up a trading mechanism that compiles with both Chinese and overseas regulations on carbon trading, while at the same time taking into account fluctuating international carbon pricing. "It has to be a scheme with a credible regulatory system – just like the Stock Connect … where multinationals and financial actors will be able to interact with carbon traders in the mainland," he remarked. "It's super difficult, because it is not only about the market design, it's also about the economic design and that comes back to the global evolution of carbon pricing." Ashley, however, pointed out that the possibilities are enormous as China accounts for 30 per cent of global carbon emissions and Asia 50 per cent. "This is where the action will be, not in Europe. We need to get our act together."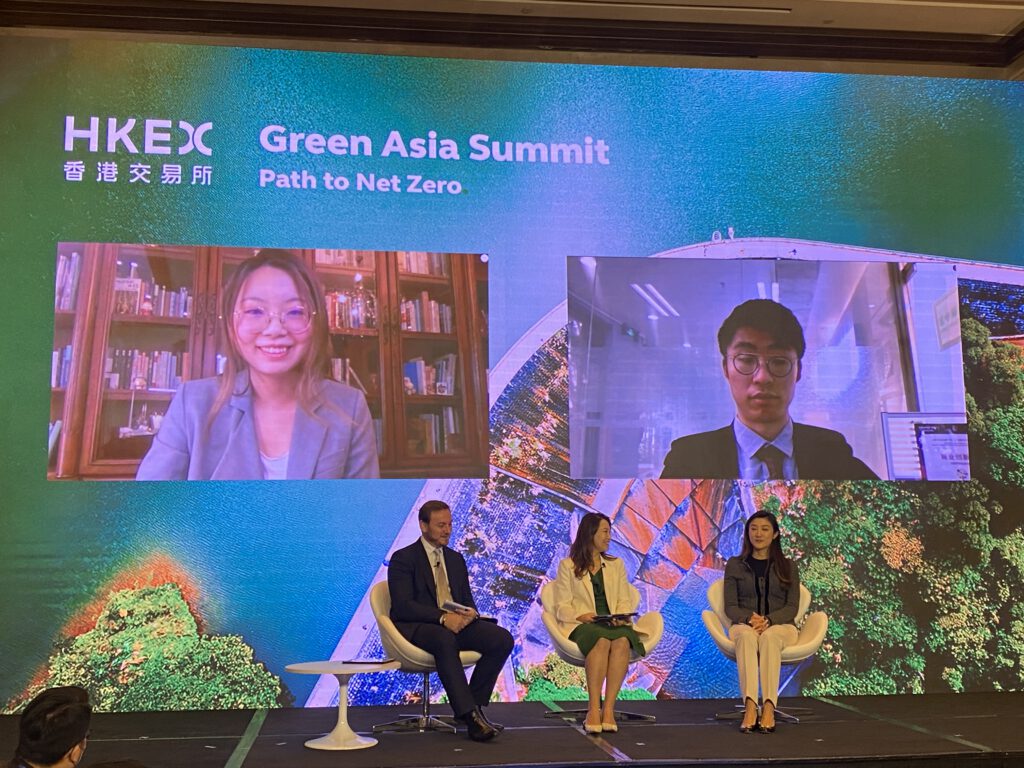 Highlights of Catherine's Address
Catherine Chen, Founder and CEO of AvantFaire Investment Management Limited was invited to speak at a panel discussion on how technology can empower the net zero journey. She began her address by scoping out the domain of the green and net zero market. The fact that that all the panellists hail from different industries and background goes to show that sustainability is now a core consideration for many corporations and individuals. Catherine shared that the integration of sustainability into our everyday lives will be the key going forward. In particular, imagination and creativity are two important aspects to consider. Imagination will redefine how we live in the community and how businesses are run in a net zero environment, while creativity enables imagination in building and developing sustainable cities and communities. Catherine highlighted this as the key driving force of AFIM's commitment to focus on sustainable cities and communities as the overarching investment theme.
When asked on how the current data landscape can improve for investors and asset managers, Catherine shared that the benefits of having better data will result in better insights when making business evaluation and investment decisions. Asset managers can also gain a better understanding of secular trends and influential events with regards to green and sustainability issues impacting the world. However, Catherine pointed out that the quality of data plays a role as well. Over the past recent years, many frameworks and ways to measure metrics in ESG, sustainability and carbon neutrality have sprung up, making data collection often times an overwhelming task. As an investment manager, AFIM is tasked with the responsibility to consider various forms of data and benchmarks to identify the most relevant metrics to use when making investment decisions. In some cases, there is a need to look beyond the data as well – a company with a high ESG score may not necessarily be a business that is socially impactful from an investment point of view. Catherine also shared that when evaluating private equity investments, the intention of the management in terms of impact creation is key, and the robustness of the business model comes into play as well in terms of its ability to provide measurable social and environmental benefit.
Catherine also shared a few real-life examples of the green tech that AFIM invests into. The first example is a company that optimizes farming through the use of satellite imaging. Famers benefit from this technology by getting actionable insights on planting dates, harvest timing, capacity planning and even on climate change related damage analysis to speed up disaster insurance claims. Catherine sees many investment opportunities in farming practices over the next few years, particularly in food producing countries (eg China) which are continually looking for ways to improve agricultural capabilities and innovate to boost crop yields. Another investment example involves the use of sensors and artificial intelligence (AI) to optimize wind power generation. Through the analytics platform, an early warning system can be set up for faster repair of malfunctioning parts. This translates to increased operational efficiency and a higher profit margin for wind farm operators through the use of big data.
Catherine concluded by sharing that her firm AFIM holds a fiduciary duty to investors to ensure that their invested capital can produce a clear and quantifiable impact. There is a need to ensure that the investments they make will create actual social impact and make the world a better place at the end of the day, and this is highly relevant in the current asset management industry where greenwashing is prevalent.
Conclusion
In summary, collaboration and partnerships are key in delivering collective climate ambitions in Hong, China and Asia. The HKEX Green Asia Summit succeeded in bringing together CEOs, policy makers and sustainability experts from across the globe to share their insights on the role of capital markets in supporting the transition to a low-carbon and sustainable economy. Hopefully this will accelerate the ongoing discussion on how investors can collectively leverage opportunities presented in the fast-changing technology and regulatory landscape, while at the same time drive the climate agenda forward.
About AvantFaire Investment Management
Established since 2017, AvantFaire Investment Management (AFIM) was founded by a group of finance professionals who are passionate about impact investing. We aim to provide access to a curated range of impact investment products that span across traditional and alternative asset classes with the intention of generating both financial return and social/environmental impact. AvantFaire Investment Management Limited ("AFIM") is licensed by the Securities and Futures Commission in Hong Kong to provide securities advisory and asset management services for professional investors. Currently, AFIM is in the midst of securing a fund management license in Singapore to conduct regulated fund management activities.
Since inception, AFIM has become a signatory to Principles of Responsible Investment (PRI), IFC's Impact Principals, a member of the Global Impact Investing Network (GIIN), and a certified B Corporation (B Corp). To further strengthen our identity in impact investment, we proactively approach professional organizations and academic institutions for joint research projects, speak regularly in industry conferences and publish articles on impact investment, ESG and sustainability topics.
We look to establish long-term relationships with investment managers to facilitate future partnerships in exclusive co-investment and re-investment opportunities, expanding our deal sourcing and business network, while formulating synergetic strategies with one another such as engaging in joint-research to further create impact and social awareness with the government, regulators, non-profit organizations and portfolio companies.
.
.